Good Persuasive Essay Topics
Writing a good persuasive essay requires much effort and time. One of the biggest challenges students face is choosing a powerful topic. It should be interesting to you as an author and your professor as the audience. And also, choosing a correct topic allows the writer to fully present their reasoning and logic.
So what theme to work on to make a good persuasive study? There are many ideas to write about. You have to decide what you are concerned about, what your audience expects to read, and what will allow you to self-express. Let's move on and see tips to select good persuasive essay topics.
What Is a Persuasive Essay?
A persuasive essay is a written study that combines logical argument and emotional appeal for making people accept the author's view. The aim of writing a persuasive essay is to convince the reader of the rightfulness of the argument presented in the essay. Students need this assignment to master the art of persuasion. Students of all levels, from mid-school to university, actively practice persuasive writing.
It's not new for an essay writer that the paperwork consists of an introduction, body paragraphs, and a conclusion. The author firstly formulates their opinion on the topic and then provides a list of arguments. The work is usually backed up with data, statistics, research, experience, and counterarguments.
What Is the Point of Persuasive Essays?
Persuasive writing helps students develop critical thinking, think outside the box, and learn to prove their viewpoints. When writing a persuasive essay, the author learns to use different persuasion techniques, facts, logic, and arguments to show that their thoughts are valid. There may also be used a personal experience or others' words for proving the idea's correctness.
These all are beneficial for formulating a student's position on any question in the topic and defending it. Students will better understand the persuasive nature of marketing or any other manipulation methods.
How to Choose a Good Essay Topic
If you want to know how to write a persuasive essay, firstly choose a good topic, and this guide will help you with that.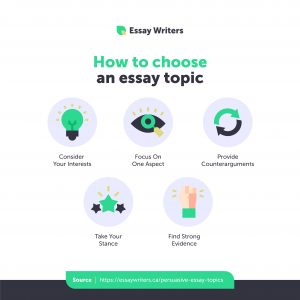 #1 Consider Your Interests
You should write about the topic that concerns you. So it will be easier to defend your position and provide facts and evidence. The more you know about the issue, the easier you will convince the reader of your rightfulness. Your research and writing are more proficient on the topic you like and know well. There's no point in persuading the audience on the issue you are not sure about or not interested in.
#2 Focus On One Aspect
There are broad topics like culture, economics, or politics that are difficult to reveal in persuasive writing. You should narrow it down so as not to struggle with a flow of information and ideas. So you'd better focus on one aspect of the issue to better explore it and reason. If you are into healthcare, you can explore an obesity topic, etc.
#3 Provide Counterarguments
People have their opinions on topics that are often controversial. In your essay, you can present the opposing viewpoint to the general belief if you have such. Or tell about other points on the issue, discuss them, and argue why yours are correct.
#4 Take Your Stance
If there are two controversial ideas, you should choose one and prove it with persuasive arguments. Readers need to easily understand why your stance is right. Always select the side you agree with and support as it will help convince the audience effectively.
#5 Find Strong Evidence
When you choose your position, you have to conduct in-depth research and find strong evidence. Use different sources to collect opinions, data, statistics, and facts to back up your side. Make your essay more persuasive, imbuing the work with engaging information.
Persuasive Essay Ideas
With so many engaging essay topics, it may be daunting to choose the one that fully reflects your position and ability to persuade. These essay ideas are classified according to your education level, but you can write about whatever you find appropriate and close to you.
Persuasive Essay Topics High School
There are different essay ideas for high school students, ranging from politics to cosmetics. You can choose the sphere according to your interests and create a compelling essay with ideas worth spreading. Write a persuasive work about the environment where you can focus on climate change, food waste, recycling, energy sources, etc.
Topics about animals may refer to pet adoption, animal euthanasia, animal testing, ethics of wearing leather and fur clothes, circuses, and more. If you are interested in politics, write about healthcare, social security, elections, immigration, taxes, etc.
Persuasive Essay Topics College
College students often face the challenge of writing interesting persuasive work to show their concerns and abilities and get good marks and reputations. If you want to stand out and impress your classmates, choose the topic that firsthand resonates with your beliefs and fully reveals your viewpoint.
You can write engaging paperwork on business and speak about business plans, leadership skills, mentorship, franchising, or globalization. Economics persuasive essay topics include corruption, insurance, inflation, the rising cost of education, and more.
Persuasive Essay Topics University
If you are a university student and wonder what to discuss in your persuasive essay, check out these ideas. Focus on some historical events and personalities and analyze their impact on our present time. Science and technology topics will always be of interest, and you can write about AI, clinical trials, genetic engineering, etc. There are many ideas for an essay about health like anorexia, surrogate pregnancy, eating disorders, vegetarianism, diabetes, breast cancer, etc. Cosmetic surgery, depression, HIV there are many topics to express your point on, so choose what you like.
Wrapping Up
A persuasive essay is a powerful tool for spreading ideas and making people think the way you plan. Using meaningful points and proper words can change people's opinions and change the world. There are different essay ideas presented in the article, and we hope that you will find yours and stand out.