How to Write a Persuasive Essay
We come across persuasive writings everywhere, from advertising to political speeches. And writing a persuasive essay is a popular assignment for different education levels. The work aims to prove the rightness of the viewpoint, convince readers and call them to specific actions. It's required to conduct in-depth research, analyze many sources, and understand controversial opinions to take your side and defend it.
A good essay shows why the author's thought is valid and the opposing one is incorrect. It's crucial to develop skills for writing good essays that convince the audience and show your knowledge and proficiency in some issues. Read the article and find out how to write a good persuasive essay.
Three Elements of a Persuasive Essay
Every persuasive essay should consist of three essential elements to convince others effectively. If you want to write a good study, take a look at these modes of persuasion coined by philosopher Aristotle.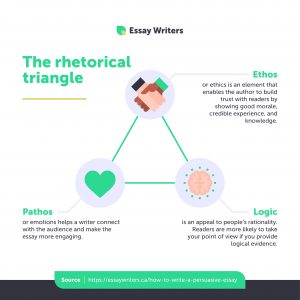 How to Start a Persuasive Essay
In order to write a good essay that persuades readers of your thoughts' validity, check out this guide.
During this prewriting phase, you should plan different aspects of your work to make it meaningful and flawless. Review persuasive essay topics and choose the one that reflects your interests in the best way. Then take the side you will advocate in the essay. You should also know your audience and their expectations of your work. Prepare the ground for your study and research to find convincing evidence. Collect data concerning different sides of the issue to analyze them and prove your arguments.
How to Format and Structure the Persuasive Essay
Organize the evidence and write an essay following the persuasive essay structure:
Introduction. If you wonder how to start a persuasive essay effectively, make it simple, short, and engaging. In the introductory paragraph, the author has to overview the argument and try to grab readers' attention, encouraging them to read further. Present a persuasive essay thesis that comprises all the essential information about the essay content and shows your opinion on the topic. It is a key element that defines the flow of your body paragraphs, so you sound confident and persuasive.
Body paragraphs. You can write several paragraphs that focus on specific evidence and ideas. Add a paragraph with an opposing view and explain your point's validity. The essay writer should support their ideas with relevant data and facts. There usually are three body paragraphs connected by transition sentences and linking words. It allows the reader to easily scan the work and perceive your ideas.
Conclusion. The concluding paragraph summarizes the most important evidence. It reinstates and reinforces your point presented in the essay and encourages the reader to take action. Keep the information fresh but not add any new facts. The persuasive essay conclusion makes the final impression on your work, so make it short, catchy, and meaningful. Avoid adding overused phrases and be creative with finalizing your study.
You should stick to a persuasive essay format that are special rules to follow when writing. Usually, a professor instructs students before giving the written assignment, but if you need, explore these tips. Firstly, opt for easy-to-read fonts like Times New Roman or Arial. Then space the lines and align the document. Stick to the required word count that varies from 500 to 2000 words.
How to Write Persuasive Essay Conclusion
Once the essay is written, the student has to revise it attentively and correct mistakes. Modify the work in a way it is easy to follow your flow of thoughts and ideas. You should ensure the study displays a firm position on the issue. Your arguments must be backed by relevant facts and statistics. Check if your essay introduction has an effective "hook" that encourages the audience to read. Each paragraph has to offer compelling evidence and support your points. And the conclusion conveys your position and calls the reader to take action.
Finally, it's necessary to proofread the work to correct any mistakes. Check your grammar and punctuation using special online services or ask friends or family members to read your essay to spot any errors. Ensure the sentence structure is varied, and you choose precise words to convince the readers. You should edit the study to improve clarity and style so that the text is coherent and flawless.
Persuasive Techniques
In order to present your ideas convincingly, there are several effective techniques to achieve that.
Storytelling. People better perceive the world and new information if it's presented in the form of a story. You can imbue your essay with relevant personal experiences and anecdotes to get closer to the reader.
Repetition. In order to persuade a person of an idea, you have to repeat it several times in different forms. Reword your point, and put it in different parts of your work to emphasize it's important. There will be more chances that people will understand your idea correctly and take your side.
Call to action: You can use a call to action in persuasive writing to encourage them to explore the topic, sign a petition, donate, etc. It's usually found in the concluding paragraph.
Antithesis. The writer can introduce two opposing opinions on some issue, take one stance, and advocate it in the essay. The contrasting effect makes it easier to see that your point is correct, so use strong evidence, data, research, and statistics.
Final Thoughts
Finally, you understand the importance and difficulty of writing a persuasive essay. Logic, emotions, and personal experience play a huge role in creating a powerful work. Learning to write persuasively helps generate strong arguments, as well as use them effectively in academic and everyday life.
So it's time to create and show your persuasion skills in a new engaging essay.