Make Your Writing Easier With Good Argumentative Essay Topics
Every high school, college, or university student encounters such work as writing an argumentative essay. As this special type of writing differs from a usual essay by its purpose and structure, the majority of students become puzzled by the only thought about it. Fortunately, there is one part of this process that can relieve you of boring work. And this is the choice of an argumentative essay topic. In most cases, teachers and professors entrust students' topic search and selection. Although there are many resources, it is challenging to choose an original topic for an argumentative essay. It is high time we backed you up with brilliant ideas for writing an argumentative type of essay.
How To Prepare For Choosing A Topic?
We all know the proverb: "As you name the boat, so shall it float." Its meaning is totally applied when choosing a topic for an argumentative essay. Make your essay writing process interesting by investigating the case you find yourself an expert in. Follow these tips when you are considering the best topic for your research.
Choose as you feel. Stick to the topic you are interested in. It doesn't matter what it is: scientific discoveries, studies of the matter of Mars, or feminism in the world. The only thing that matters is your feelings about a topic. If you find it attractive, then writing an argumentative essay will go smoothly for you.
Rely on sources. Make short research on the references on your topic. If the base of sources is not complete to cover your topic, then choose another one. It often happens that students choose argumentative essay topics that don't have enough sources or have not yet been studied. Then the process of writing goes with a lot of difficulties and effort.
Look for a many-sided topic. As the purpose of an argumentative type of writing is to reveal different points of view, its theme should correspond to many sides. Within your topic, you should be able to support or debunk the statement from different positions.
Top Ideas For Argumentative Essay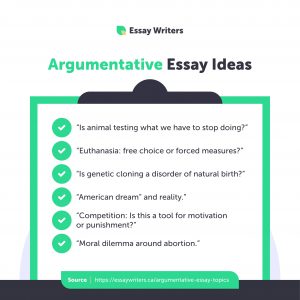 There are so many events and discoveries in the world today that you can just read the news to find a topic for an argumentative essay. New terms and concepts emerge, on which it is possible to build not only an essay but also a whole dissertation. Find out 20 interesting topics on general thematics to write your essay.
15 Best Argumentative Essay Topics About Politics
Politics is always controversial. Every day in the world, there is a new piece of news to discuss, and students can turn it in their favor. Thus, a college essay writer can find a range of topics that evolve interest around political issues. We present the top 15 topics about politics to write an argumentative essay type.
"Is the government responsible for freedom in all aspects of life?"
"Military training: for everyone or for those who are eager?"
"Males and females in high political positions: is there any inequality?"
"Capitalism vs. socialism."
"Is the European Union going to collapse?"
"Eastern Europe and NATO expansion: is it an appropriate direction?"
"Great Britain and leaving the European Union: causes and consequences."
"North Korea and South Korea: is there any chance of unification?"
"Third World War: is it happening right now, or is it going to happen soon?"
"Election: what is the appropriate voting age?"
"Should prisoners vote?"
"Do female politicians face discrimination?"
"Is the tax system effective or not?"
"Should churches and religious schools be obliged to pay charges?"
"Democratic monarchy – is it possible to happen?"
10 Interesting Technology-Related Topics For An Argumentative Essay
Don't you know how to write an argumentative essay? Choose a technology-related theme as the world of technology is extremely attractive. Topics that stand around technology are always engaging and magical. See what you can choose from.
"Robots with emotions: how possible is it to happen?"
"Artificial intelligence: a huge technology development or a controller for humans?"
"Are self-driving cars safe for using them?"
"The ethical side of replacing human resources with robots."
"Reading electronic books and paper books: is it the same?"
"Is it possible that paper money will be totally replaced with electronic currency?"
"Does using dating apps negatively affect human relationships?"
"The world without the Internet: cave era or a new stage of development?"
"Is scrolling the Internet pages regularly an addiction?"
"Collecting users' data: do security measures work enough?"
What Topics For Argumentative Essay Type Are Trendy Now?
If you are looking for good argumentative essay topics, you can search for modern themes. Nowadays, students actively argue in their essays on ethics, sports, science, religion, health, education, economics, and culture. Even if you don't find a good fit for your taste, come up with your idea!